Fields of interest:
People:
P. Dee-Boersma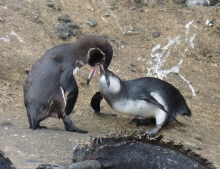 For more than four decades, Professor Dee Boersma has studied and advocated for penguins in South America, particularly the Magellanic penguins of Argentina and the Galapagos. Her work has inspired conservationists, budding biologists and penguin admirers worldwide who give to the Center for Penguins as Ocean Sentinels at the University of Washington, which she directs.
On top of her professional accomplishments, Prof. Boersma has served as a key philanthropic leader in her home department of Biology, generously giving a transformative gift to establish the Boersma Endowed Chair in Natural History and Conservation. The position will allow the UW to continue outstanding work conducting research and fieldwork in whole organismal biology.
Click here to the support the Center for Ecosystem Sentinels.