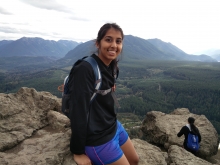 Sarina Sandhu is a junior in the Department of Biology and an Autumn 2017 recipient of the Friends of Biology Fund.
Her love for Biology started when she was a child. She watched a butterfly, which she named Chris, emerge from its chrysalis, spread its wings and fly away. From that moment on she was hooked. She continued to study bugs, plants and everything that moved with a science kit purchased for her by her parents. With her magnifying glass and microscope she studied the world, "I was able to see what ants looked like up close and see tiny edges of a plant. This changed my world view, and I was absolutely fascinated by what I saw."
As an undergraduate she has excelled in her studies and remains enthralled by what biological sciences offers, "The field is ever evolving, and while there is continued research in many biological fields, there are also new unanswered questions being raised as well. The UW Biology department acknowledges this, and offers a wide variety of classes that are taught by dedicated and passionate professors, and this has also aided in encouraging my interest in the field of biology."
The Friends of Biology Fund allowed her to focus on her studies and pursue her research. After her graduation in the spring of 2019, Sarina wants to go to medical school and become a pediatrician where she will study the links between fetal environments and adult health.
As a scholarship recipient, Sarina knows better than anyone the impact that scholarship dollars can have on a student's success. She hopes that in the future she will be able to help students through her own giving, "I want to help other students in the future, because I believe education is the ultimate tool one can use to reach their personal goals."