Fields of interest:
People:
Tanvi-Deora
Thomas-Daniel
Bing W.-Brunton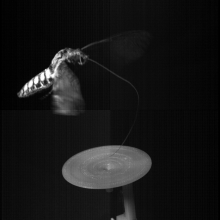 We are excited to share that Dr. Tanvi Deora, member of the Daniel and Brunton labs, was awarded a postdoctoral fellowship from the Board of Trustees of the International Human Frontier Science Program Organization (HFSP).
Dr. Deora's work focuses on the role of neuromechanics in plant-pollinator interactions. Though pollination is very important to ecosystems, very little is understood about the sensory processing and biomechanics of this fundamental process. "My research combines knowledge of mechanics and neurobiology to understand the basis of touch in insects. It serves to understand a process of great ecological relevance and to also inspire novel engineered systems."
Support from the HFSP fellowship allows her to focus on this project, entitled "Learning about touch: the neuromechanics of plant-pollintator interactions", and continue to collaborate with Profs. Tom Daniel and Bing Brunton. The HFSP is particularly noteworthy because it encourages fellows to pursue collaborations across the globe and provides support for relocation – this emphasis on collaboration across continents makes the HFSP group a vibrant and diverse community of young researchers and scientists.
In addition to the support she is receiving from HFSP, Dr. Deora is involved in other projects for which she receives support including funds connected to Prof. Daniel's Komen Endowed Chair -- which supports diverse student activities in the Daniel lab.