People:
H.D. 'Toby'-Bradshaw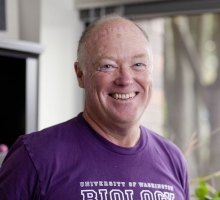 Dear alumni, friends, and supporters of UW Biology,
The opening of the stunningly beautiful new Life Sciences Building is just a few months away: July 2018! For the first time in years we now have room to grow, and thanks to the generosity of our donors we have raised $10M to underwrite the cluster hiring of 4 new Biology faculty who will help us cut the ribbon on LSB.
It is a buyer's market for scientific talent. We received more than 1,000 applications for our 4 faculty positions! The 4 young biologists who rise to the top of our search are certain to be heavily recruited by other elite universities around the world, as well. How can UW Biology compete with the likes of Harvard, Stanford, Berkeley, and Oxford? Our greatest attraction is the integrative nature of UW Biology – we are one of a tiny handful of biology departments globally that embraces the full range of scale "from molecules to ecosystems." UW Biology's collaborative, post-disciplinary culture has a powerful appeal to young biologists whose research is enhanced by proximity to engineers, physicians, mathematicians, physicists, chemists, and philosophers.
I am especially grateful to the philanthropists who have established Endowed Chairs and Professorships in Biology. Such prestigious titles are essential to tip the balance in our favor when recruiting new faculty, especially when the competition is a private university. A current example of such impact is UW Biology's recent recruitment of Professor Julie Theriot as the next Benjamin D. Hall Endowed Chair in Basic Life Sciences. Julie is a Howard Hughes Medical Institute Investigator in the Department of Biochemistry at the Stanford University Medical School, a MacArthur "genius grant" Award winner, and a coauthor of the textbook The Physical Biology of the Cell. She will join UW Biology in July 2018, studying the biophysics of cell motility and splitting her time between the UW and the Allen Institute for Cell Science in South Lake Union. Most appropriately, Julie's new office and laboratory will be on the 5th floor of the Life Sciences Building, which is being finished as the result of a $6.7M gift from Ben Hall, whose eponymous Endowed Chair Julie will hold! [And she will have a spectacular view of Mt. Rainier from her office …]
If you are looking for a healthy dose of optimism about the future, by all means plan to attend the 15 faculty candidate seminars taking place over the next couple of months. I hope to see you there!
Warmest regards,