People:
Ashley-Paynter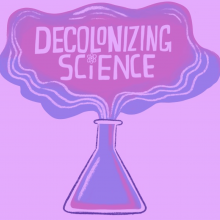 Ashley Paynter, a fourth-year Ph.D. candidate at UW Biology, has always been interested in genetics and the environmental determinants of disease. She is a member of the Promislow Lab, studying canine cancer genetics as a way to better understand human cancer. Ashley is also an activist, and is passionate about informing the public about environmental racism and how the lived experience of being a person of color can contribute to one's disease risk. By combining her scientific background with her passion for activism, Ashley created the Decolonizing Science podcast to educate the public on issues of racism in research and healthcare.
The Decolonizing Science podcast is for everyone, and its goal is to bridge the gap between activism and science by educating its listeners. With the podcast, Ashley hopes to expand the understanding of the Black Lives Matter movement beyond police brutality and Black death, by focusing on Black lives in the very basic sense – which is, as Ashley says on the website, "caring about Black people before they are dead by promoting and protecting Black health equity." The topics covered on the Decolonizing Science podcast range from the ecological impact of racism in urban environments to Indigenous health equity to being a Black woman in science. One of Ashley's favorite episodes is one where she speaks to a wrongfully convicted inmate about the spread of COVID-19 in prisons due to the lack of access to essential PPE and testing to contain the virus.
Ashley was also recently featured in two episodes of KCTS9 Crosscut series, Hidden Barriers, which investigates how bias, prejudice, and discrimination pervade our healthcare systems. In Ashley's first appearance in the series, she speaks about racism in medicine, how a history of distrust in research and medicine has existed in the Black community in the U.S. for centuries, and how this ultimately led her to find her calling in bridging the gap between activism and science.
In her second appearance, we see Ashley speaking at a Black Lives Matter rally about preserving Black lives by fighting against inequities within the healthcare system.
HOW CAN I SUPPORT?
LISTEN to the Decolonizing Science podcast on Spotify, Google Podcasts, or Apple Podcasts.
FOLLOW Ashley and Decolonizing Science on Instagram for exclusive IG Live Video Interviews and the latest news and events.
SUPPORT Ashley and the Decolonizing Science podcast by giving here.