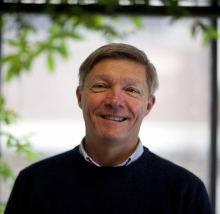 Welcome back to Biology! It has been a busy fall, marked by physical and other changes all around us. While our Chair, Toby Bradshaw is on sabbatical leave in Autumn Quarter, I have taken on the role as Acting Chair through December, 2016. It has been a great opportunity for me to meet more members of the department and to learn about what everyone does. I'm impressed at the diverse and outstanding contributions of the Biology family to research, teaching, outreach, and support for facilities and administrative functions.
For Biology, the most exciting physical change is the ongoing and rapidly-progressing construction of the Life Sciences Complex, slated to open for Fall Quarter 2018. The crew broke ground in the summer for the two-year construction project. The new building will house classrooms and teaching laboratories on the ground floor, four floors of research labs and two floors of basement space for environmental chambers and other equipment and facilities. In addition, there will be a large greenhouse to support research, teaching and outreach activities.
In addition to physical changes, there are always intellectual changes. Biology researchers are highly active, discovering new things. And old things. For example, this past summer, faculty member Greg Wilson led a team that discovered, and uncovered the skeleton of a Tyrannosaurus rex. The skull has been moved to the Burke Museum, where it will be prepared, soon to be the only T. rex skeleton on display in Washington state. In addition, faculty members are developing innovative teaching techniques, refining courses and assessing learning goals. Biology is the home of the Biology Education Research Group, a nationally recognized community of scholars of teaching. Joining that group are five newly hired Lecturers in Biology, enlarging and strengthening the already awesome teaching team.
So as the quarter progresses, and we head through the shorter days and exciting times of the holiday season, we send warmest wishes to all from UW Biology.

Prof. David Perkel
Acting Chair