You are here
Nathalie-Nesi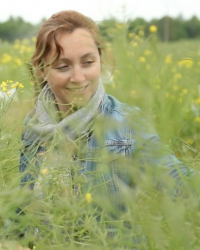 Nathalie Nesi
Visiting Scholar
507 HCK
I have strong expertise in genetics, plant physiology and molecular biology, with particular focus of my research projects on seed development in the Brassicaceae species. After a PhD at INRA Versailles (Fr) and a postdoc at the John Innes Center (UK), I was recruited in 2003 as a permanent scientist within the 'Plant Biology and Breeding' division of INRA, and I had the opportunity to join the IGEPP (INRA Le Rheu, Brittany, Fr) to work in the group entitled 'Yield under abiotic challenges' (http://www6.rennes.inra.fr/igepp_eng/RESEARCH-TEAMS/Yield-under-Abiotic-Challenges). I have a particular interest in unravelling the genetic and molecular determinants involved in the control of seed yield and seed quality (incl. seed composition, germination and vigor) in rapeseed (Brassica napus) grown under abiotic constraints, especially low nitrogen input and/or drought conditions. For that purpose, we use quantitative genetics approaches (linkage analyses and GWAS) combined with tools and methods related to structural and functional genomics analyses (genome sequencing, TILLING, transgenesis, genome editing). Stress-imprinting questions are also addressed with seed material obtained from water-stressed mother plants through the evaluation of seed vigor and young plant responses to water availability.
2017 – present INRA senior scientist (research director DR2) – IGEPP, Le Rheu, France
2008 – 2016 INRA scientist (CR1) – IGEPP
2003 – 2007 INRA young scientist (CR2) – IGEPP
2001 – 2003 Postdoctoral fellow – Department of Metabolic Biology, Cambridge Laboratory, John Innes Centre, Norwich, UK.
1997 – 2001 PhD in Plant Science – Laboratory of Seed Biology, INRA Versailles, France.
1997 Master of Science (Plant Physiology, Molecular Genetics) – Univ. Paris 11, Orsay, France
1996 Master of Engineering in Agronomy – Institut National Agronomique Paris-Grignon, France