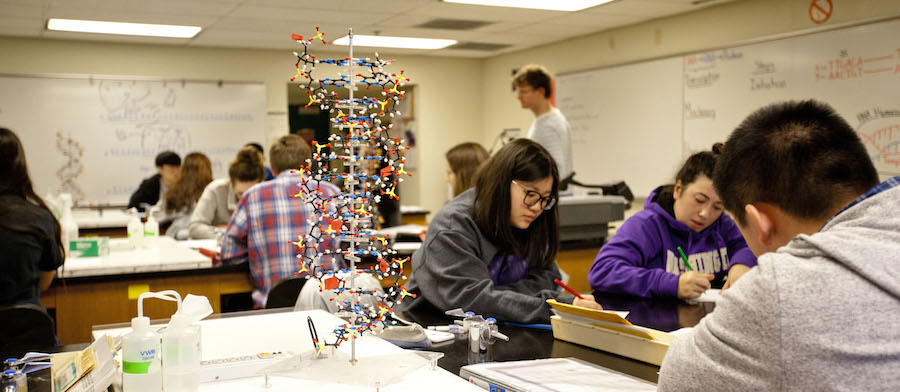 BIOL 240: Intensive Introductory Biology: Human Health Emphasis
is a new 10-week, 15-credit Summer course to begin in Summer 2018
(June 11, 2018 - August 17, 2018).
Click here for the BIOL 240 registration form. Click here for course time schedule information.
BIOL 240 is a 15 credit Summer course that can be taken as an alternative to the three quarter BIOL 180-200-220 Introductory Biology Series. BIOL 240 will be an exciting and high intensity, full-time academic commitment.
The intensive, 10-week, early start summer course, begins June 11, 2018 and runs to August 17, 2018.
BIOL 240 emphasizes human biology and is designed to teach the topics of cell and molecular biology, animal and plant physiology, and ecology and evolution as they relate to human health. Rather than addressing each topic separately, the course fully integrates these topics through the use of case studies on subjects such as antibiotic resistance, opioid addiction and cancer. The course is taught using the latest evidence-based teaching methods, and instructors for the course have published in the field of biology education research.
BIOL 240 will only be offered during summer quarter and meets the introductory biology requirement for students interested in professional health science programs and other programs in the natural sciences. Completion of BIOL 240 with a grade of 2.0 or higher will meet the Introductory Biology requirement for application to the Biology major, and will serve as a prerequisite for upper division UW Department of Biology courses. There are no chemistry pre-requisites for BIOL 240.
Please note: This course is not intended for students who have already completed courses in the Introductory Series (BIOL 180, 200, 220). Students will not receieve dual credit for individual Introductory Series courses and BIOL 240. Students are advised to check with their individual major department to confirm that BIOL 240 will meet those program needs.
Proposed Course Schedule: