You are here
Evan-Craig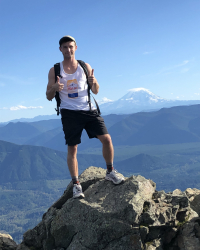 Evan Craig
Graduate Student
I am interested in cell and molecular biology, in particular I enjoy studying cytoskeletal structure and function especially in systems which have novel uses for conserved cytoskeletal proteins. Accordingly, I am currently rotating in the Paredez lab, trying to visualize cyst-wall protein formation and trafficking through encystation-specific vesicles in Giardia cells.
I'm a Missouri native who earned a bachelors degree in cell biology from Rockhurst University while playing for the men's soccer team. I spent 2 years as a research technician in Dr. Prachee Avasthi's lab at KU Medical Center working to visualize the Chlamydomonas reinhardtii actin network, where I found my passion for studying the cytoskeleton. I credit these single-celled eukaryotic algae cells for fueling my inspiration to pursue a career in research, and also believe swimming "Chlamy" cells are the cutest cells you'll ever look at under a microscope.
Chlamydomonas reinhardtii formin FOR1 and profilin PRF1 are optimized for acute rapid actin filament assembly
,
Christensen, Jenna R., Craig Evan W., Glista Michael J., Mueller David M., Li Yujie, Sees Jennifer A., Huang Shengping, Suarez Cristian, Mets Laurens J., Kovar David R., et al.
, Molecular Biology of the Cell, Jun-10-2021, p.mbc.E19-08-0463, (2019)
The elusive actin cytoskeleton of a green alga expressing both conventional and divergent actins
,
Craig, Evan W., Mueller David M., Bigge Brae M., Schaffer Miroslava, Engel Benjamin D., and Avasthi Prachee
, Molecular Biology of the Cell, Mar-10-2020, Volume 30, Issue 22, p.2827 - 2837, (2019)