You are here
Patricia Lu-Irving
Patricia Lu-Irving
Lecturer, part-time
408 HCK
(206) 616-7156
Not accepting graduate students
Fields of interest
Botany
Plant systematics, evolution, and biogeography
Evolutionary Biology
Molecular phylogenetics, phylogeography, and diversification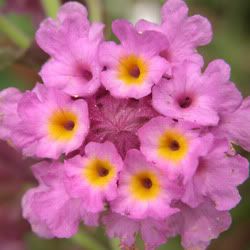 Members of the Lantana tribe (Verbenaceae), pictured above, show differences in inflorescence architecture. The patterns of evolution in plant reproductive traits evoke questions about how they are related to the evolution of ecological niches and diversification rates.
Broad interests in the evolution and diversity of flowering plants have led me around the world, from studying native parsnips in Australia (Trachymene spp.) to members of the vervain family in the USA and South America (tribe Lantaneae, Verbenaceae). Along the way, I have developed relationships with a diverse collection of wonderful colleagues and mentors on three continents.
Fast-paced technical and conceptual advances are making this an exciting time in systematic and evolutionary biology. As an early-career scientist in this field, I am currently honing a spectrum of skills and perspectives to explore a range of evolutionary questions in new ways. I look forward to advancing the boundaries of knowledge in the origins of plant diversity during the years to come.
2013-present
Postdoctoral lecturer in Biology, the University of Washington
Plant systematics (BIOL317), interdisciplinary writing (ENGL299)
2007-2013
Graduate student (Ph.D. program), the University of Washington
Plant systematics and evolution (Lamiales), with Dick Olmstead
2005-2007
Research assistant, Rutgers University
Microbial ecology (mercury resistance), with Tamar Barkay
2001-2005
B.Sc. (Advanced), Honors, the University of Sydney
Plant systematics and evolution (Apiales), with Murray Henwood
See also
Profile at the Botanical Society of America
Contributions to Science Positive
Feature in FTBG tropical plant conservation newsletter
Feature in UW Herbarium newsletter
Botanical illustrations for Flora PNW revision, and new species of Actinotus